March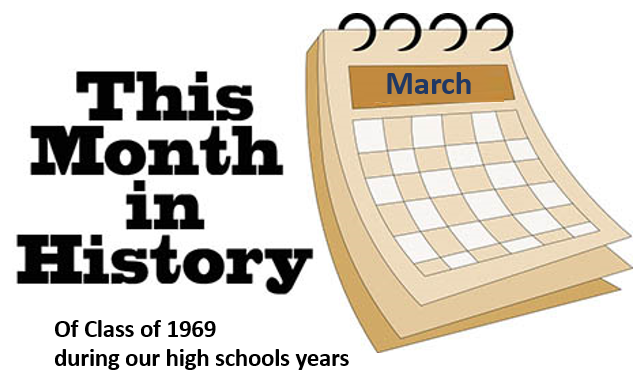 1969 - March
1968 - March
March 2 – Baggeridge Colliery closes marking the end of over 300 years of coal mining in the Black Country.[5]
March 6 – Un-recognized Rhodesia executes 3 black citizens, the first executions since UDI, prompting international condemnation.
March 7 – Vietnam War: The First Battle of Saigon ends.
March 8 – The first student protests spark the 1968 Polish political crisis.
March 11 – U.S. President Lyndon B. Johnson mandates that all computers purchased by the federal government support the ASCIIcharacter encoding.[6]
March 12
March 13 – The first Rotaract club is chartered in North Charlotte, North Carolina.
March 14 – Nerve gas leaks from the U.S. Army Dugway Proving Ground near Skull Valley, Utah.
March 15 – British Foreign Secretary George Brown resigns.
March 16
March 17 – A demonstration in London's Grosvenor Square against U.S. involvement in the Vietnam War leads to violence; 91 people are injured, 200 demonstrators arrested.
March 18 – Gold standard: The United States Congress repeals the requirement for a gold reserve to back U.S. currency.
March 19–March 23 – Afrocentrism, Black Power, Vietnam War: Students at Howard University in Washington, D.C., signal a new era of militant student activism on college campuses in the U.S. Students stage rallies, protests and a 5-day sit-in, laying siege to the administration building, shutting down the university in protest over its ROTC program and the Vietnam War, and demanding a more Afrocentric curriculum.
March 22 – Daniel Cohn-Bendit ("Danny the Red") and 7 other students occupy the administrative offices of the University of Nanterre, setting in motion a chain of events that lead France to the brink of revolution in May.
March 24 – Aer Lingus Flight 712 crashes en route from Cork to London near Tuskar Rock, Wexford, killing 61 passengers and crew.
March 26 – Joan Baez marries activist David Harris in New York.
March 28 – Brazilian high school student Edson Luís de Lima Souto is shot by the police in a protest for cheaper meals at a restaurant for low-income students. The aftermath of his death is one of the first major events against the military dictatorship.
March 31 – U.S. President Lyndon B. Johnson announces he will not seek re-election.
1967 - March