Linda Couture Varriccio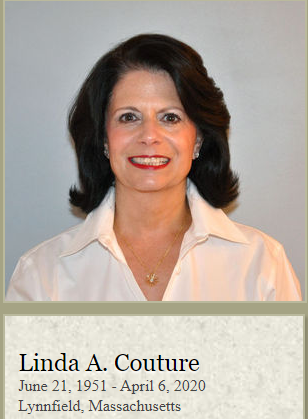 Linda A. Couture, 68 of Lynnfield, died on Monday April 6 at the Kaplan Family Hospice House in Danvers.
She was born in Chelsea on June 21, 1951 and was the daughter of Albert and Lillian (Catalano) Varricchio.
Linda was a lifelong Lynnfield resident, and was a graduate of Lynnfield High School, class of 1969. She was the owner of Elegante Image, which opened in Lynnfield and later moved to Middleton. Linda loved spending time with her family, especially her grandchildren. She touched so many with her beauty,elegance, kindness and generosity. Linda had a compliment for everyone she met and always made them feel special. She will be greatly missed by many.
She was the beloved wife of Richard L. Couture of Lynnfield. She was the loving mother of Gregg R. Couture and his wife Kristen of Lynnfield. Linda was the sister-in-law of Mary Varricchio and the sister of the late Arthur Varricchio. She is also survived by her 3 grandchildren Katherine, Leo, and Cecilia.
Private graveside services were held Forest Hill Cemetery in Lynnfield.